Explore Chartway Group
We talk to Ben about his Apprenticeship with Chartway Partnerships Group
Wednesday 8th February 2023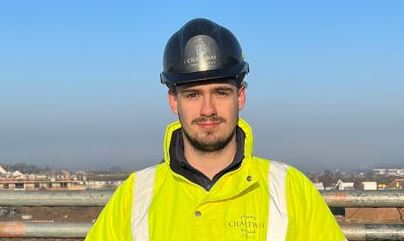 It's National Apprentice Week and we spoke recently to one of our construction apprentices, Ben to hear about his experiences working for Chartway and what it's like on site at Thanet Way, Whitstable where we're developing 120 new homes in partnership with Hyde Housing Association
The award-winning Chartway Partnerships Group operates across the south east and has been offering Apprenticeships for a number of years, recently in construction management, business administration and quantity surveying.
Q. Thank you for chatting to us today Ben. Can you tell us when you joined Chartway Partnerships Group?
A. I joined in September 2021 and now in the second year of my Apprenticeship.
Q. What Apprenticeship are doing, and why did you choose to join the construction industry?
A. I'm doing my Level 4 Site Supervisor Apprenticeship, I work at the site for four days and go to MidKent College one day a week.
I chose the construction industry as a career because I was inspired by my Grandfather who was an Architect, I can see a clear career path for myself in the future.
Q. How long is your Apprenticeship?
A. My course is 2 years.
Q. What do you like about being an Apprentice at Chartway Partnerships Group?
A. I've been able to do add-on training at Chartway, Fire Marshall. First Aid, Traffic Marshal which ae site related and also Modern Slavery, GDPR and Equality, Diversity & Inclusivity training which has helped with my personal development. I am also learning new things every day from my managers at the site, and from the trades who are at the site.
Q. What have you learnt about the construction industry?
A. I've learnt so much already, what the different roles in construction are, particularly at my site, and I've been able to work with different Project Managers so seen their different management styles.
There's still so much knowledge I can gain, my Managers are very experienced and willing to share their expertise and experiences, it's helping me to get a real understanding about the challenges and successes of working on a large construction site.
Q. What has made the biggest difference?
A. It's different for everyone, but I know I work well under some pressure, so deadlines for tasks work well for me. My Managers have recognised this and help me by agreeing when a job needs to be completed. Working with my team, having my own tasks and projects to complete has really helped increase my confidence and communications skills. I'm talking to subcontractors, team members at Thanet Way and colleagues across the Group.
Q. How do you feel about the support you have received from Chartway Partnerships Group while you are doing your Apprenticeship?
A. It's been very good. I am supported by my site team and the Project Manager, and I can get advice and help from the Group Training & Development Coordinator who can also assist me if I need anything with regards to my day release at college.
Q. And finally, what would you like to be doing in five years' time?
A. I would like to have reached Site Manager level or even Senior Site Manager, and hopefully I'll still be with Chartway Partnership Group.
Our thanks to Ben, we wish him good luck with the rest of his Apprenticeship, and his career with Chartway Partnerships Group.